Ways to Cut Down on Business Costs with Technology! – Establishing relevance in a competitive market has never been easy for businesses – old or new, big or small. The industry witnesses many newcomers come and go and the most common mistake new businesses make is not knowing where to invest.
Bad financial decisions lead to an even worse future profitability. As a new business or an old one, you must always prioritize effective cost reduction if you want to see actual business growth and success. The mismanagement of costs, particularly with technological solutions is one of the fastest ways to overspend money without an ROI.
If you want to establish a market presence, understand business finances and reduce tech costs – focus on areas that bring in profitability and generate business stability in the long run. Who likes spending a ton of money without getting any benefit in return anyways? Thriving and surviving in this digital age means adopting tech-driven strategies. However, you must focus on adopting cost-cutting and tech-driven strategies that save your business loads of money.
Now you'll find several tech-driven strategies for cost reduction, but picking the most effective ones may be a challenge for you. This is where we come in to save the day! Rounded below are some of the best cost-cutting strategies that must be a part of your business plan to help tech cost reduction – check them out!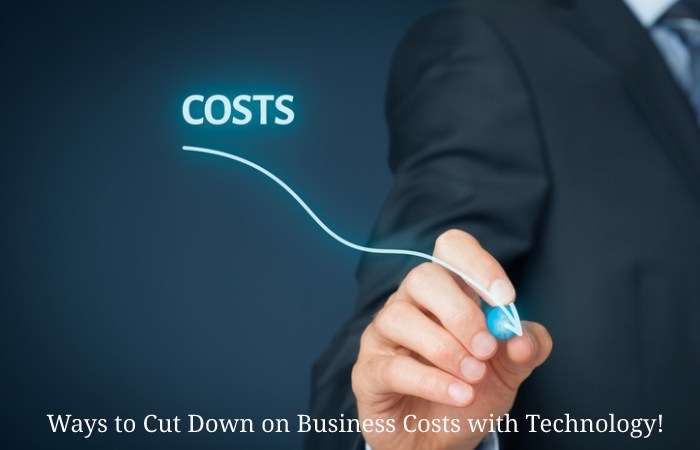 Move your Business to the Cloud
Adopting the right technologies is the only way to cement business success in this tech-driven space. Every aspect and operation of your business is run by the technologies adopted and embraced by your business. Technological development and advancement have led the business sector to thrive and grow without the need for physical servers or databases. Cloud-based platforms and applications store huge databases and run your entire business operations from one place.
Regardless of the industry or niche your business targets, cloud based-platforms enable you to save a ton of money you'd spend otherwise on physical servers, data warehouses, storage space, and maintenance.
Cloud tech also enhances internal communication, personalizes customer experiences, improves data security, and boosts scalability as needed. Shifting the business to the cloud is a cost-cutting strategy every newcomer in the industry should embrace. Not only can the business scale up or down as needed but anyone with authorization can access the database from anywhere in the world as long as they have a good internet connection. AT&T Internet is a popular choice among businesses, and AT&T bundles offer great value for money. So, become an AT&T subscriber and access your data from anywhere in the world without breaking your bank account.
Microsoft Azure and Amazon Web Services are some of the most trusted cloud providers available in today's time. So instead of spending money on maintaining your IT infrastructure, scalability, software licenses, and simplifying IT solutions, partner up with a trusted cloud provider and transform your business management forever.
Employ Online Communication and Resources
Businesses of all sizes have begun using online resources for communication and collaboration thanks to the digital transition happening. Employees are no longer required to work on-site to produce efficient results as long as they have the necessary tools. Employing the right communication and collaboration tools can reduce tech and space costs by a huge margin. From office space, maintenance, commute, energy bills, fuel bills, and whatnot, the company and employees both benefit from the money saved up. The quality of work delivered by employees is affected by the quality of tools and resources provided by the company.
The company should provide their employees access to quality VPNs for secure network access, Zoom, and Skype to stay connected virtually via high-quality calls and video conferences, a VoIP service to make unlimited local and international calls with international and local clients, a cost-effective internet plan with high-speed internet connectivity and premium accounts on social media platforms.
Access to Social Media
Social media is a catalyst in today's time. It's an open avenue used by most companies to build a reputation and establish a market presence on a budget. No matter how big or small your business is, you will need social media access to make it big out there – especially when you're tight with money.
Social media acts as fuel for companies, providing them with opportunities to connect with audiences globally without breaking the bank. Some of the major social media platforms you must have are your social media accounts Facebook, Instagram, Twitter, and LinkedIn. They are brilliant marketing specialists!
The Bottom Line
The benefits of reducing business costs are long-term and short-term. By simply employing these tech-driven strategies, you can cut down tech costs by a huge margin and gain business profitability quickly!
Also Read: 7 Data Backup Tips Every Business Needs to Implement
Related posts