How To Share Your Dropbox Folder? – Dropbox fixes many common file-sharing problems if you have a folder full of files to make available to others. You can send a single link, and your receivers will have easy access. You can even add additional files to the folder and download the files when they need to.
With the help of your Dropbox, you can not only access your files privately from anywhere, but you can also share them with other users and store files together. Other people don't even need to have a Dropbox account. Next, we'll show you how to share a Dropbox folder.
How To Share Your Dropbox Folder Through The Dropbox Website?
Follow our step-by-step instructions or check out the Quick-Start Guide.
Step 1: Firstly, sign in to Dropbox.com on your browser. Then go to "Files" on the left.
Step 2: Now, click on the button with the three dots to the right of the files or folders you want to share to open the drop-down menu. Then click on the "Share" entry.
Step 3: a new window will open. Feed-in the email address of the persons you wish to approve for. You can even use the button on the right side to set whether your file or folder can be edited or viewed only. Then click on share. "
Step 4: You can also copy the share to other posts as a link. However, other users only receive read rights and cannot modify them. To do this, click on "Create a link."
How To Share Your Dropbox Folder Through The Dropbox App?
Follow our step-by-step instructions or check out the Quick-Start Guide.
Step 1: Open the Dropbox app on your smartphone and navigate to the three-line icon at the top. On the iPhone, go to "Files" underneath and skip the second step. All the remaining steps are the same for Android and iOS.
Step 2: Then press "Files."
Step 3: To share a folder or file, go to the three-dot symbol on the right side. Note: Symbol points are displayed vertically on Android and horizontally on iOS.
Step 4: Then press "Share."
Step 5: Finally, you can enter the recipient's email address and hit "Share." Alternatively, you can also 'create a link' and direct it through WhatsApp.
Quick-start guide: share the folders from the Dropbox website
Log into your Dropbox App and click on 'Files.'
Click on the three-dot on the right of the folder you want to share, and then click 'Share.'
Finally, enter the individual's email address who should be able to access the folder and complete the process by clicking "Share." "
Quick Start: Share With The Dropbox App
In the Dropbox Android app, navigate to the three-line icon in the upper right corner. On iPhone, go directly to "Files" below and skip the second step.
Touch "Files." "
Next, navigate to the three-dot symbol on the right edge of the file or folder.
Touch "Share." "
Enter the email address and then click 'Share.'
Expand Dropbox Storage – How It Works?
There are several ways to expand Dropbox storage, often for free. Here's what to do about it.
Files can be easily backed up online to Dropbox cloud storage. A regular Dropbox account has a storage capacity of 2 GB. Moreover, completing tutorials or completing tasks can unlock more free Dropbox storage. We'll show you how.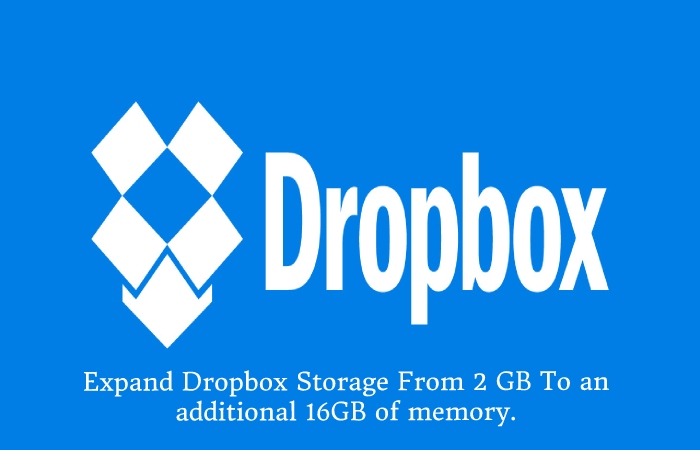 Unlock Free Dropbox Storage
Dropbox continues to add new opportunities. At www.dropbox.com/getspace, you can easily find out which methods can create even more space. It is, therefore, worthwhile to register regularly:
First Steps To Take
Click on "Get started with Dropbox" or visit the alternative https://www.dropbox.com/gs. Here you find short-term instructions to get started. These should help you orient yourself better in Dropbox. Currently (May 2020), there is 250MB of storage space to complete the intro program. You need not have to meet all of the tasks on the list to do this.
Recommend Dropbox To A Friend
You can recommend Dropbox to a friend. To do this, you must give an invitation link. If your associates or friend creates a Dropbox account using this link, you and each of you will receive 500MB of extra storage space. You may do this up to 32 times and unlock an additional 16GB of memory.
But beware, this only works if your associate creates an account.
Follow Dropbox On Twitter
If you wish to follow Dropbox on Twitter, a new window will open. There you need to enter your user data for Twitter. Then click on 'Authorized application.' You will now have 125MB.
Provide A Response
You can send us your feedback by clicking 'What do you like about Dropbox?' Enter a short message to the developers here and click 'Send to Dropbox.' Once you've done that, you will be provided with an extra space of 125MB.
Buy Dropbox Storage
The paid version is also: you can buy a terabyte of storage space for € 9.99 per month or € 99 per year. Private customers cannot have more storage space. The subscription can be irrecoverable at any time. Even after canceling, you can still access all your data, even if it exceeds the free storage space. However, you cannot reload new files until you free up enough space. Syncing between Dropbox app devices won't work if too many files are uploaded to your free Dropbox account.
Also Read: What is Google Search Console? For Ten Specific Uses
Related Searches:
[dropbox how to share a shared link]
[dropbox login]
[how to share a dropbox folder link]
[how to create a shared link in dropbox]
[can i give someone access to my dropbox?]
[how does dropbox work for sharing?]
[can i send a link for someone to upload to my dropbox]
[how to use dropbox]
Related posts